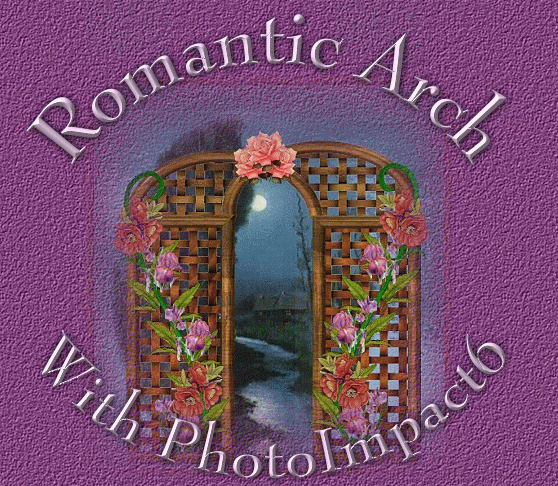 I recently saw this tutorial for PSP and loved it. I asked the creator of the tutorial,
Jane Braz, if she would mind if I converted it and she has gracefully given me
permission. Thanks Jane!
What You Need
Arch Tube or

Arch PSD File

Blue Glass Tile

Moonlight Oval
I have included everything in a zip file which you can find HERE
Open either the arch tube or psd file. You may either work from these or create your own. If you would like to change from wood to another type of material, now is the time to do so!

Ensure that there is enough space in the middle of the two columns so you will have a sufficiently large arch (the picture at the top shows a relatively small opening - if I were to create it again, I would enlarge the opening.
If you are using the arch psd tube, ungroup the ovals from the columns, then selecting the ovals, merge as a single object. Bring them to the front using the Pick Tool, then select the Object Paint Eraser Tool and remove the bottom part of the ovals, from where they join the columns.
Select the weave portion from within the column (you may have to ungroup from the border) and Duplicate it. Using the Transform Tool, rotate the weave so that it fits within the left arch, then using the Object Paint Eraser Tool, remove the top and bottom and anything protruding from the sides, so that it looks like the picture opposite.

While the arch is still selected, duplicate it and Edit/Rotate/Flip/Horizontal and place it on the right side of the arch, Send both panels to the back.

Now we're ready to create our image! Open a new file 500 x 500. Use Edit/Fill, and locate your blueglass-ic.jpg and select fill the image, not tile.. Open the Oval Moonlight Picture or any picture you wish and place it where you want it, then move the arch in front of it. For the top picture I used tube flowers as well as leaves and for the vine, I used a path object. Let's decorate with stamps.....For this picture on the left, I used stamps from the Ulead Collection. To finish the project, I then selected various parts of the arbour or arch then Effect/Magic/Light on the left side of the arch.


Hope you've enjoyed the tutorial!
Tutorial Created November 22, 2000